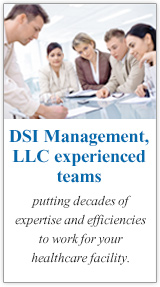 DSI Management, LLC - a leader in Healthcare Management for 29 years.
With its Corporate Headquarters located in Central Florida, DSI Management, LLC specializes in management of communities for the elderly, facilities and programs for the developmentally disabled, and programs that provide a full range of services to individuals in their homes.
DSI Management, LLC provides comprehensive management services including:
» Administration
» Financial
» Quality Assurance
» Marketing
» Human Resources
» Risk Management
The DSI Management Philosophy
Our philosophy is precise and focused: to promote quality patient care and services, to promote a caring, ethical organizational culture, and to operate conservatively and efficiently to enhance stability, growth and profitability.
For further information regarding DSI Management, LLC, please click here or call 407-645-3211.